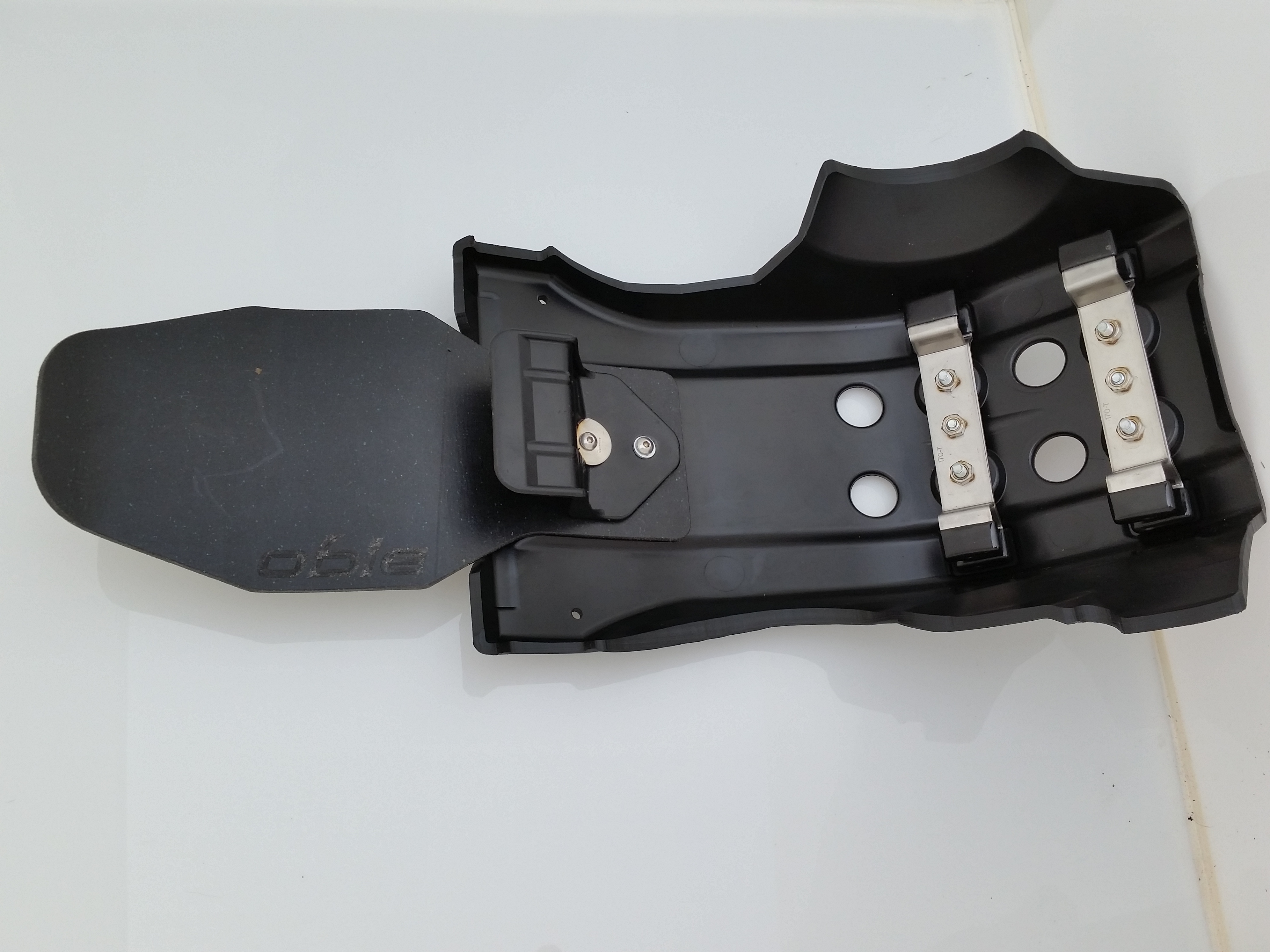 As a KTM dirt bike rider, you know that your dirt bike linkage is something that needs to be protected.  Most KTM riders have now noticed that KTM designed their linkage bikes with linkage that hangs lower than on most dirt bikes.  With an Obie Link Guard installed to your KTM skid plate, you significantly reduce the chance of expensive linkage maintenance, breakage and replacement.  In this blog post, we will give you five reasons as to why you should install an Obie Link Guard to your KTM skid plate.
1) KTM linkage hangs down lower than on most other linkage dirt bikes.  Because the KTM linkage hangs low, this then makes the linkage more susceptible to damage, wear and tear.  When riding your KTM, you want assurance that your linkage is protected.  The Obie Link Guard gives you that assurance.
2) The Obie Link Guard also offers an Xtreme guard for your KTM skid plate with 20% added material that will help keep your linkage from being damaged or broken through the more tough and rugged terrain.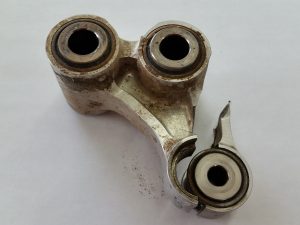 3) Our riders want confidence that they have purchased the best product out there for linkage protection.  Our many satisfied KTM dirt bike owners agree that the Obie Link Guard is the best and most affordable linkage guard available for their KTM skid plate.  Our guards were developed by a dirt bike enthusiast – Mark "Obie" Olberding.  Obie totally understands the hazards a dirt bike faces.  He developed the Obie Link Guard to specifically protect the linkage and keep our riders from having to make costly repairs and maintenance to their dirt bike.  In addition, each one of our guards is handcrafted from recycled material and is Made in the USA.
4) The Obie Link Guard is quick and easy to install to your KTM skid plate.  We also offer our link guards to fit most all name brand skid plates.  We provide detailed installation instructions on our website (www.obielinkguard.com/installation).  The Obie Link Guard will bolt or rivet directly to your KTM skid plate.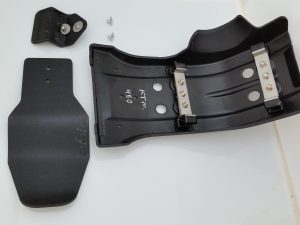 Depending on the type of bike and skid plate you have, it may require that you create a hole or two to bolt the guard to your skid plate.  We also provide an installation video for the Obie Link Guard here https://www.youtube.com/watch?v=7TORAtK7P70.  But, if you need further assistance, you can always contact us and we are happy to help walk you through any installation questions you may have.  The bottom line is, the Obie Link Guard extends the life of your dirt bike linkage and allows for less maintenance, cost, hassle and headache.
5) If you are not completely satisfied with your Obie Link Guard, you have 30 days to return it.  We are confident in our product.  We offer every customer a 30-day money-back guarantee.
The Obie Link Guard, in essence, extends your KTM skid plate for ultimate protection of your KTM linkage.  It's quick and easy to install, keeps dirt entry out of the linkage bearings, protects the linkage from damage due to rocks and logs, and makes for easy gliding over these obstacles.
Obie Link Guard also makes other link guards to fit many other dirt bikes and skid plate brands, such as:  Husky Power, Enduro Engineering, Hyde Plastic, TM Design (TMD), P3 Carbon Fiber, CYCRA.  Please visit our store for more information at www.obielinkguard.com/shop.